Monkey App, a chat application popular in the USA, was created by five high school students to make it easier for people to connect and make new friends online. The app allows children to video chat with strangers around the globe. It uses Snapchat and Facebook as a platform to offer access to the service.
Monkey.cool, a video chat app, that randomly matches users to each other on the platform. This allows for a quick 15-second video conversation. The platform connects to the service using users' Snapchat usernames, and mobile numbers and allows them to run matches. It also gives them extra time to keep a connection going. To allow multiple users to chat simultaneously, group video chats are available on the app. A "moment", which can be shared with their followers, can also be posted.
What happened with the Monkey App
Monkey is still available and can be downloaded on Google Play. The Apple store seems to have removed Monkey. However, unless you've downloaded it previously, there is still a way to access it. Apple has not released a statement regarding its exact reasoning. However, the Washington Post reported that they likely banned the Monkey App because of 1,500 App Store reviews that highlighted inappropriate behavior to minors were exposed to.
Apple originally made the setting so that you needed to be at least 17 years old to download the app. Monkey, however, was still available to download with no age restrictions. Reddit users raised the matter recently, asking where the app disappeared and concluding Apple, which has one the most strict policies for its apps, must have removed it due to predatory behavior.
Apple claims that it "carefully reviews" every app on its website and has distinguished itself from other companies with less control. Apple must be careful to protect its customers from inappropriate sexual content as it develops its platform. However, this is not the case with minors. Apple also has a financial interest. It takes a cut of any revenue generated through apps.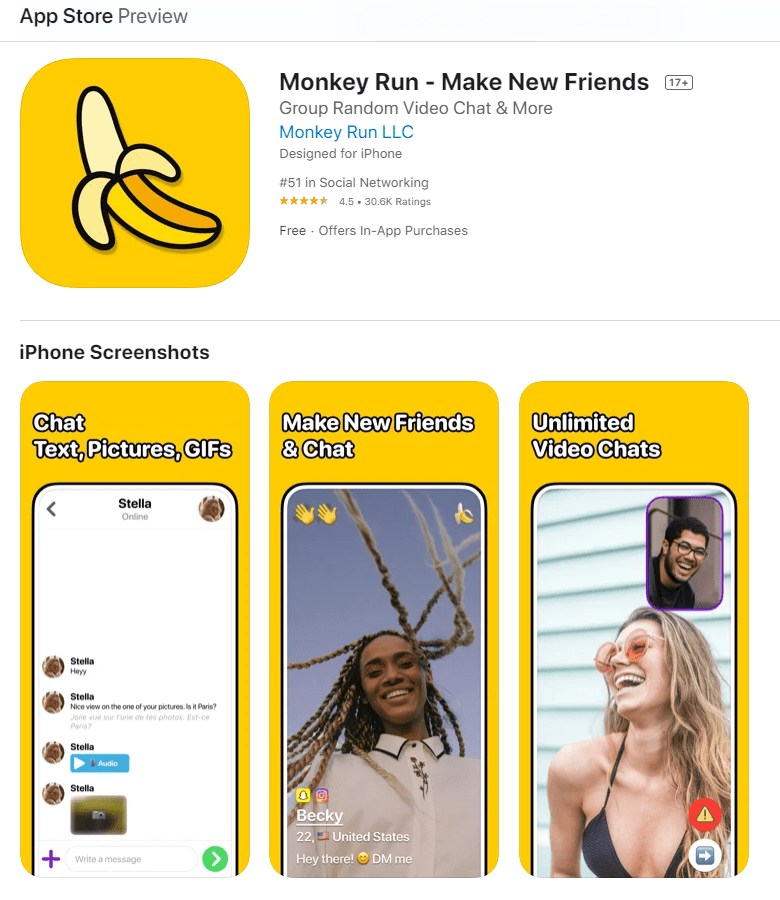 The Post used an algorithm that uses machine learning to classify App Store reviews containing complaints of inappropriate sexual content, racism, or bullying. The Post reviewed more than 130,000 reviews for six chat apps. None of them were in the top 100 of social networking by Apple. The Post manually reviewed more than 1,500 reviews mentioning uncomfortable sexual situations.
Apple claims that it reviews 100,000 apps every week using both software and humans. Apple spokesperson Fred Sainz released the following statement: "We created App Store to be a safe and trustable place for our customers to get apps. We take all reports regarding inappropriate or illegal contact extremely seriously." "If these apps are not inappropriate, we want developers to have an opportunity to comply with the rules. However, if they don't, we won't hesitate to remove them.
App Store wouldn't allow something as deplorable as the two reviews. According to their policies, "Overtly pornographic or sexual material" can be banned.
Monkey.cool features and exclusive functions
Because digital space cannot be controlled or audited, it isn't subject to any restrictions. Any playground or theme park that has dangerous rides, or is not safe for kids, would be closed. This raises serious questions about why apps fail to adhere to safety guidelines when they're marketed to children. Furthermore, children cannot be expected to be responsible for their own safety. They will just use an app that opens up new worlds for them when they hear about it. The Monkey app is very popular with kids because of this. It is now crucial for parents to monitor their kids' online activities. Let's take a look at the Monkey.cool features and talk to the Monkey app live chat.
For people over 13 years old, no proof of age verification is required

Automatically accepts new matches

Simple access for strangers

Chat without supervision

There is no regulation or moderation of chats among connects

Sharing of graphic and non-nude imagery as well porn through Monkey chat

To video chat for over 15 seconds, users must click the time button. For the chat to last beyond 15 seconds, both parties must click on "Time"

Snapchat allows users to add people to their conversations.

To verify that a user is older than 13, the app uses Snapchat and Facebook.

Users can create a "moment", which is visible to all of their followers.

Chat privately using direct messaging

The app allows users to earn "bananas", which they can use to buy goods and services.

You can then use "Bananas", which are used to purchase merchandise from the app.

Monkey allows group video chats to be used so that multiple users can chat at once.
Monkey App new name
Monkey.com has no connection to Monkey Web or Monkey.cool in any way. Make sure you have the correct URL if Monkey is your destination!
How to Get a Monkey app
The Monkey app can only be downloaded by Android users. The app has been downloaded by over 5 million people around the world and received a rating from 46K users.
Monkey Video Call Apps are being smuggled onto the Play Store. Make sure you check the genuine one. Click here to see them in the Play Store.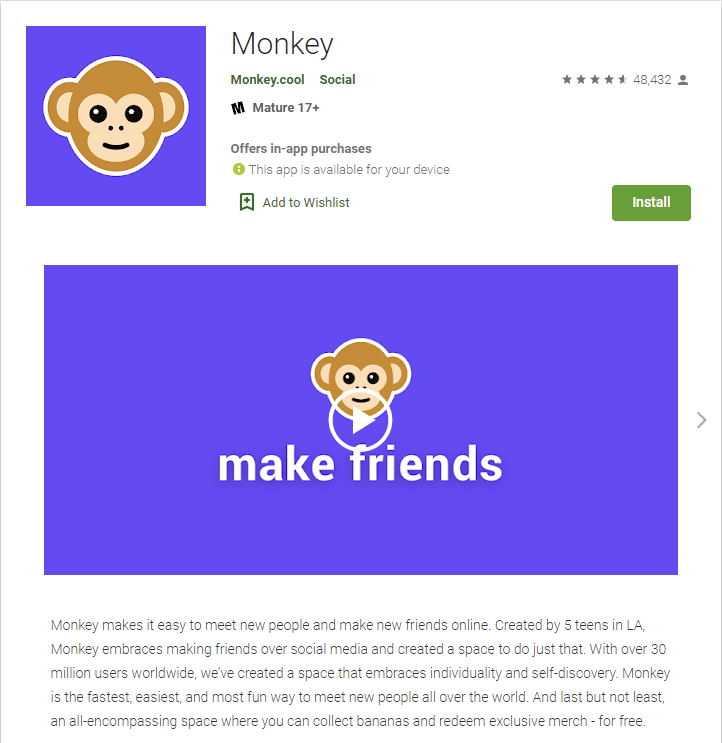 Monkey App alternatives
The monkey.cool became a huge hit due to its ability to allow users to connect online with other people, chat with them and share the fun stuff. It's easy to make a video call to anyone you like or to those you want to meet.
Monkey has over 4,000,000 downloads. You can also check out other apps similar to Monkey. This list contains the best alternatives for Monkey app, which you should consider adding to your top list.
Caterease
Caterease, the most popular catering software on the planet, makes catering simple. Caterease offers a unique experience unlike any other. Caterease Software Product Tour
Omegle
Omegle has been widely regarded as one of the top websites to allow anonymous chats for the past 10 years. The mobile app version of Omegle is now available so you can chat with new people on the move. Omegle's popularity is due to the fact that you can choose the language with which you want to chat. It doesn't always have to be in English. This makes a huge difference in countries where English is not the primary language.
Total Party Planner
Total Party Planner, a software for managing catering and banquets, allows users to access the data from anywhere.
Chatroulette
Chatroulette is another similar social media app to Monkey App that allows its users to connect via the webcams or microphones it offers. It is one of the most widely used and loved video calling apps. Users can talk to strangers by using this app on any device. This video chatting app allows users and clients to communicate easily with strangers all around the world.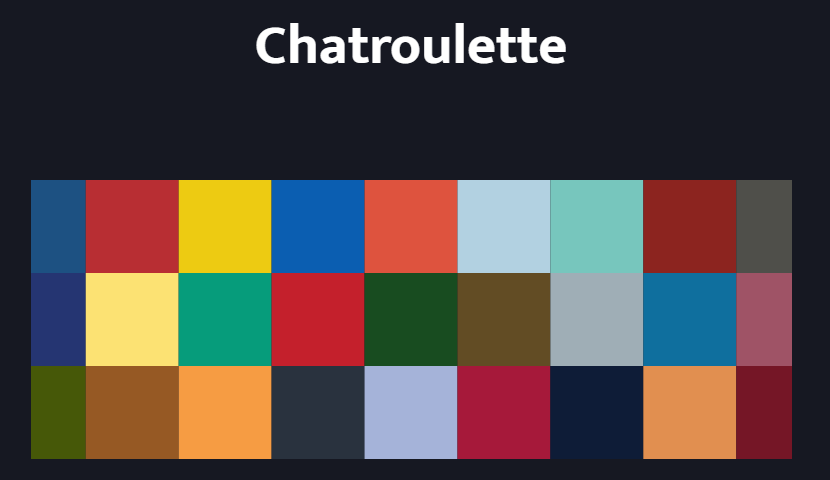 Curate proposals
You deserve to present a proposal that represents the brand you have built. Get more bookings by creating interactive proposals that are worthy of your brand.
ChatHub
ChatHub is an Omegle alternative that allows you to chat with random strangers using your webcam.
MeowChat
MeowChat brings you joy and happiness in a single place. It is a place where you can meet new people all over the globe and exchange ideas with them. It's a place where thousands of people come together to exchange thoughts and create a friendship. This chat app is home to a significant society of people who use it to meet and make amazing discoveries about some fascinating people.
It allows you to chat and have fun with your friends in a chat room. MeowChat offers privacy and protection by allowing you to chat with any of your friends privately. You can freely share your stuff, inner thoughts, and many other aspects.
Azar
Azar, another social networking platform that allows its users to interact with millions across the globe, is another intriguing option. It allows users to meet and connect with actual people. Azar does not use tricksters or fictitious systems to create this app. Only existing people can register for Azar's chatting family.
Azar's updated Region Preference system and Instant Voice/Text Translator system make it easy to communicate with others.
Gapita
Make new friends, start group chats, and mark the people you want frequent contact with. Gapita protects your privacy. All conversations are kept anonymous unless you wish to reveal your identity. The app doesn't require registration and you can start a conversation whenever you like.
What Parents Should Know
Monkey App randomly connects teens and Snapchat users for a 10-second video chat. They can extend the video chat or add another person to Snapchat. Before they connect, teens will see their potential friend's age and gender. Teens can choose to accept or reject the video chat. Although users can be aged 13 or older according to the terms of service, verification of age is not required. It is possible to share personal information with third parties. You can find more information in the privacy policy.
Is Monkey App Safe
Monkey, an iOS and Android app, caters to kids. The app doesn't offer any type of age verification. The Monkey app is not equipped with any age verification. Many people believe that apps that cater to teens should include some type of age verification in order to provide a safe environment for them.
Monkey app gathers lots of data and shares them with other platforms, as needed. It is important to remember that the app does not keep any data private. Users should also be aware that there is always the possibility that their data or any part of it could be made public. Additionally, the privacy statement states that the app cannot guarantee data protection due to the inherent nature of the internet and its related technology.
It claims it provides 24/7 content moderation to protect users, but it does not offer any real privacy. Because the app asks kids to share personal information such as their name, profile picture, and date of birth. It also allows users to upload user-contributed content, such as images, texts, videos, screenshots, and other shared content. Additionally, they will be asked to share automated information such as their I.P., browser, and other shared content. address. All of these details and data are covered in the App's Privacy statement with different levels of protection.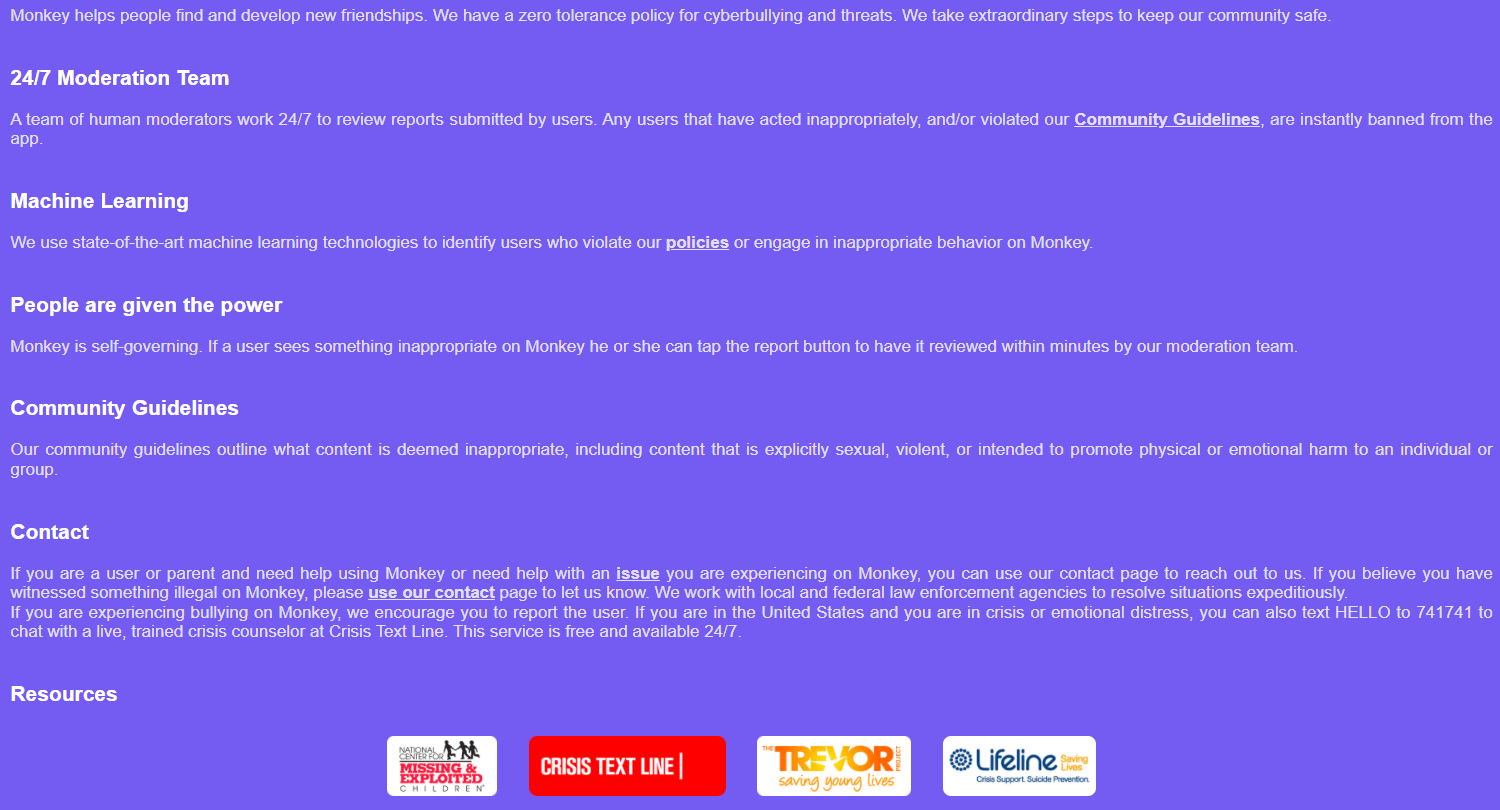 The regulation of sexual content and the use of nudity is strict. Monkey app uses two different image recognition companies for scanning content. The platform has two image recognition companies that can scan content. Two of the llamas I spoke to had seen content they didn't want to see and one was even asked to "trade" or "sext". Monkey's experimental use made it clear that the Monkey user I was paired with was only there to use the app for a specific purpose. I ended the call before this purpose was clear.
Personally, I wouldn't want my daughters to use this platform. On three counts, I am uncomfortable.
An online predator can be paired up with your child.

Your child has shared personal information with a stranger.

You can expose your child to pornography, bullying, and other harmful content by using this app.
If your daughter uses the app, and you want to get rid of it for good, send an email to [email protected] asking them to remove her name from their database. Then, you can delete the app.
You can restrict the AppStore use of your llama's phone by going to the General Settings. Google "manage AppStore Settings" and follow these instructions for the device of your child.
Conclusion
The Monkey.cool became a huge hit due to its ability to allow users to chat online with others, meet new people, and share fun stuff. Because of some users' sick-mindedness, it is losing popularity. However, it doesn't mean that you have to stop meeting new people or making friends. Alternatives to the Monkey app are available that are both safe and easy to use.