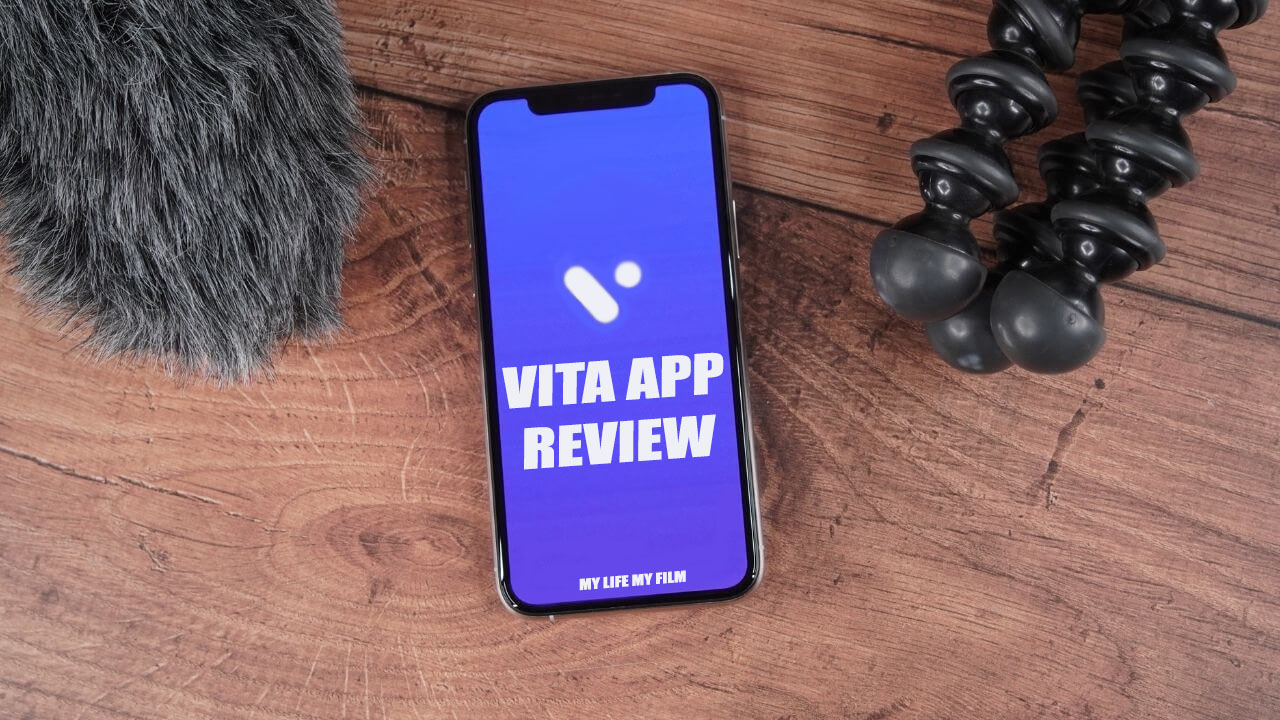 It may seem difficult to create fun video content with sounds, frames, and effects. VITA makes it easy to create engaging videos in minutes with the app. You only need a smartphone. You get the app and all features completely for free.
VITA app offers many editing options. The App has lots of trend content and anyone can create high-quality content with it. VITA App's post-processing is high quality and excellence. The processing is very efficient and takes very little time to render and process the video.
VITA app is the best app to edit high-quality videos. It will allow you to capitalize on the popularity and impact of your videos. It is packed with useful features that will make editing and tweaking your video super simple. SNOW Inc is the developer of SNOW, SODA, and LINE apps. VITA app was created for intermediate and beginner content creators. It offers many trendy features and filters that will make your video content more engaging and interactive.
I tried the app out recently and was amazed at how easy it was for me to create and edit videos.
VITA App: Features
Let's start with the UI. The app's UI has a dark theme that is pleasing and essential in 2020. The app has two sections. These are the sections I will be focusing on.
Project section
This is the homepage you see when you launch the app. This page displays all your previous projects (videos), and allows you to add new information to the queue. You can choose to start with one of these two.
Alternatively, you can also use the plus button at the top of the screen for video imports.
Templates
The templates option is located at the bottom of your screen. It contains hundreds of templates with different aspect ratios, suitable for TikTok and other social media platforms like YouTube, Instagram, Snapchat, and Instagram. Any of these templates can be applied to any video that you have recorded for a variety of visual effects.
The best thing about VITA App is the fact that all video templates are completely free. VITA App allows you to use all the templates without paying a subscription fee or advertisement, unlike other apps that charge a fee for premium templates.
Playback speed can be adjusted
You can change the speed of your video clips. You can slow it down up to 0.1x or speed it up to 10x. You can create stunning animations with a combination of slow and fast clips that will match professional bloggers.
Add Background Music and Voice Effects to Your Clips
Videos are only half of the story. Good music complements the videos. The video will not reach the right nerve if it doesn't have catchy, sad, romantic, upbeat or catchy music. VITA App: The Video Editor features a strong 'Add Music' section. It allows you to use the impressive library of tones, add audio effects, store DRM-free songs in your iPhone Music App, and even extract audio from videos for your ongoing projects.
Video Filters
You can create vivid videos with over two dozen effects such as retro, mood, and food. If you have multiple clips, you can select multiple effects or tap on "Apply to all" to have the same filter across the entire video.
Stunning Video Templates
This is the VITA App's primary USP (unique selling proposition). There are many templates that can be used to cover different categories. These templates can help you jumpstart your project, and they also reduce the effort. You can view multiple templates and pick the one that you like best.
Full HD Video Support
VITA App is free and allows you to export your videos in 1080p resolution for sharp quality. These videos are worth uploading to YouTube and other social media sites like Instagram, TikTok, or Twitter. To change the resolution of your project, tap the Settings icon at the top right corner of the screen.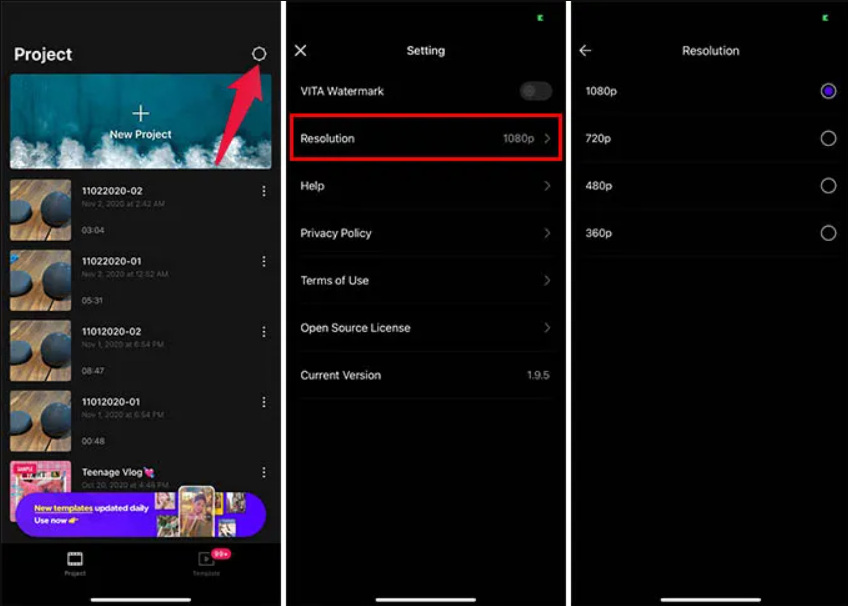 Absolutely Free Application
I can see what you are thinking. It's a dream come true to have such an amazing tool for free! VITA App does just that. You don't need to be bothered by annoying prompts or full-screen ads asking you to pay to unlock additional features. VITA App is 100% free and has no hidden fees. It is free of hidden fees, advertising tricks and it's not Chinese. VITAApp is video editing made easy. With a price tag of ZERO, VITA App should be on every phone.
iOS and Android friendly
VITA App offers a great video editing experience for no cost. It is available on both iOS AND Android. VITA App performed well on different Android phones, including iPhones and iPads. VITA App even has Settings for Social Media-specific Aspect Ratios. This means that no matter where you upload your video, VITA App will have your back!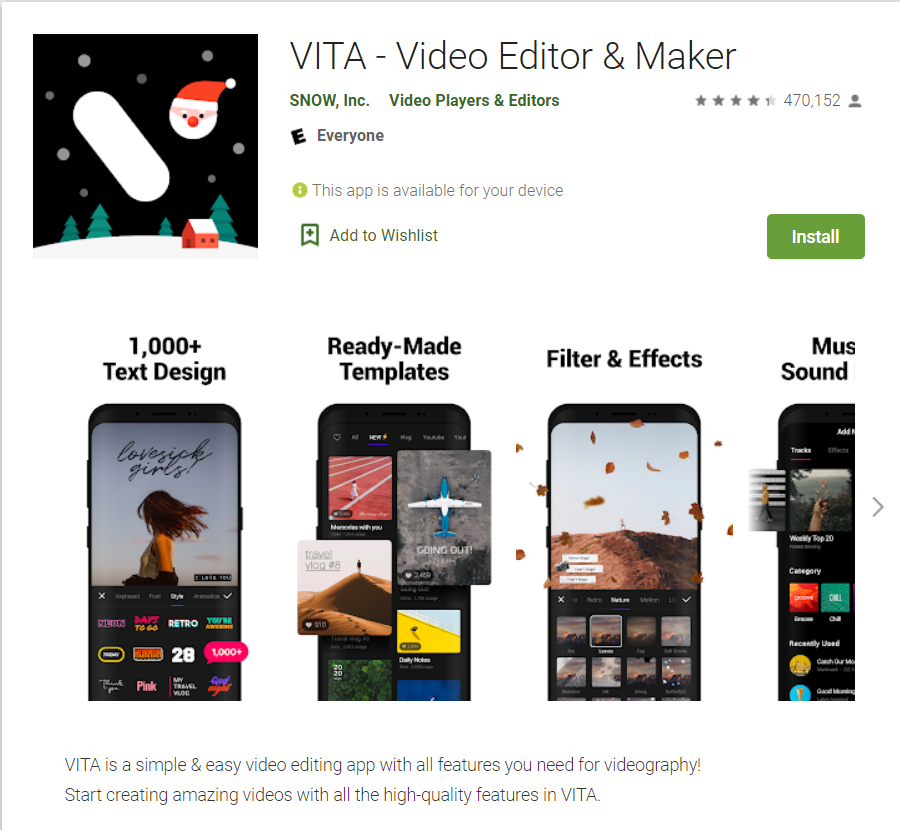 VITA App main functions
Each application has a number of its own functions that emphasize the uniqueness of the application and superiority over others in its category. VITA app was able to stand out in a number of functions:
You can create amazing videos using all the VITA high-quality features.

Export videos in full HD quality.

The video speed option allows you to increase or decrease the speed of your videos.

Video transitions can be added to your videos to make them look more cinematic.

Create beautiful videos using dreamy glitter, glitter, or bling effects.

For color grading, add filters to your videos.

To enrich your videos, select songs from the music collection.

Make your own vlogs using quick and simple video templates

Pre-made fonts and animated text can be customized with strokes, shadows, colors, and other options.

To create clone videos, you can overlay and collage videos with PIP.

Face Technology by SenseTime
Useful Tutorials
The Tutorials section is one thing I did not mention about the templates. Do you want slow-motion hair flips? This tutorial will show you how to do a slow-motion hair flip. Use the Vintage Film Effect tutorial to create amazing vintage videos. Although there aren't many tutorials, these help you quickly get to grips with all the features.
Edit Videos Without Watermarks
The VITA App allows you to edit videos without a watermark. The default watermark option is left on. Tap on the Settings button to turn off the watermark option. This will produce clean videos you can share across all platforms.
Pros
Easy interface and intuitive

Pre-features

Reliable and fast

Use these amazing templates

Broad editable parameter choices

Soundtrack support

Full HD rendering

All features are available for free

There is no watermark

Slow-mo, time-lapse, and other time-based parameters

Full-scale color correction

Regular updates

An enormous community of over 10 million users
Cons
There is no chroma key feature, but it will be in the next updates

Devices with low specifications may heat too fast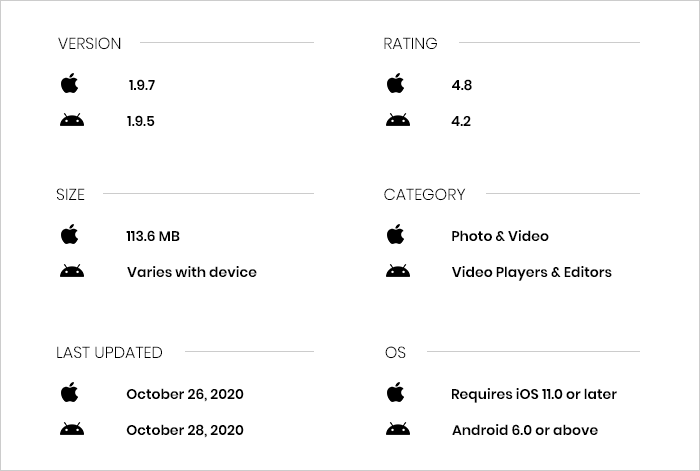 Conclusion
VITA App's high level of customization is very satisfying. You can edit every aspect of your video to the smallest detail. Color, filter, text, and stickers can all be modified. It is one of the best video editing apps for your smartphone, with its ability to export videos at 1080p resolution and ease of use.
The VITA App is a great app for anyone who wants to create video content on Instagram or YouTube using minimal resources, or even more effectively at no cost.
One word of caution: It might take some time to get used to the app. Before you start editing your videos, spend some time exploring the various options. This will allow you to get the most out of this free video editor app.